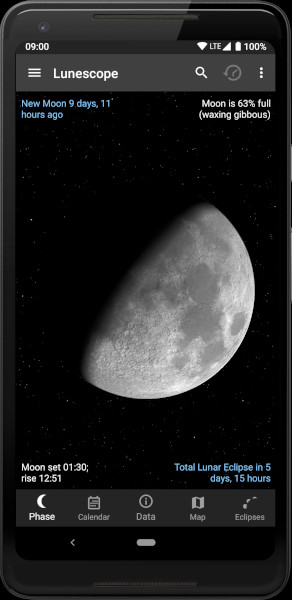 Lunescope opens to an image of the current moon, big and beautiful. This highly realistic simulation accurately depicts both the phase and crescent angle as seen from your location. Near new moon, it even simulates earthshine on the dark side.
The app's main screen also shows key information about the moon right now: its phase percentage and name, the time until the nearest syzygies (new and full moons), and the moon rise and set times bracketing the present. All the essentials, at a glance.
This view of the moon is fully interactive. Drag your finger over its surface and the lighted area moves with your touch; stop dragging, and the data fields will update to indicate on what day the moon will look like this. As you drag the date, the moon's libration (essentially, its "wobble&quot) is also depicted. Drag with two fingers and you'll spin the moon instead of the shadow, to get a look at the far side or the lunar poles.
You can also go directly to a date & time of interest by direct entry, or change your "observer" location to see what the moon looks like from the other side of the earth.
And there's an option, shown in this screenshot, to draw the shadow of every crater and mountain on the face of the moon individually – and move them as the phase changes. We call it maximum realism, and you can find it in the app's Settings screen.
Finally, you can share the moon with your friends. Lunescope integrates with other apps on your device to send either a copy of the screen, basic moon data, or both (depending on the functionality supported by the sending app).
Moon Map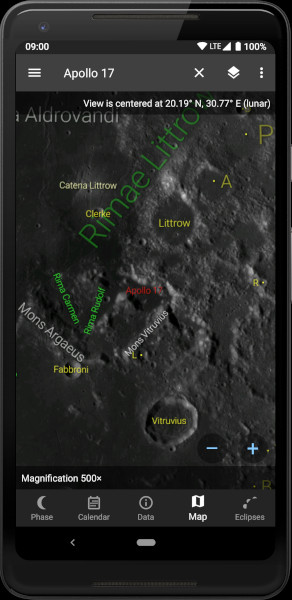 Lunescope also includes an interactive map of the moon: zoom in on the main display for an expanded, detailed view of the lunar surface, complete with labels for named features (craters, mares, etc.). Maximum magnification is currently 2500×, depending on device capabilities – about ten times as high as the best telescopes on Earth can do!
You can tap on any named feature for more details, search for a place of interest, or filter out those which you don't want to see. There's even a shortcut in the navigation menu for the crewed Apollo landing sites, to quickly see any of the places where humans have walked on the moon.
Calendar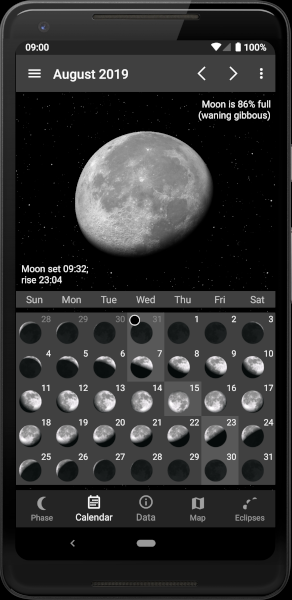 Next up is Lunescope's Calendar, showing the entire month's phases at once. The current day is highlighted, as are the dates of major phases: full, new, and quarters. For the big picture, tap any day and it will open full-screen.
You can also easily skip to another month by using the buttons in the title bar.
If a full moon is a blue or supermoon, or a new moon is a black moon, this will be indicated by a small badge on the day (see July 31 in this screenshot).
Data Page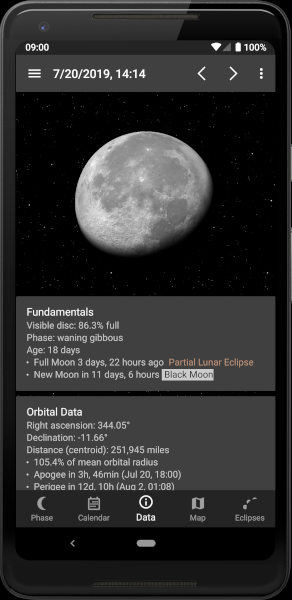 For a deep dive into lunar details, open Lunescope's Data page, revealing full astronomical data about the moon (and even some about the sun). And it all updates automatically, in real time. There's lots more than you can see in this screenshot; as of version 11, this screen includes:
Visible percentage of the moon's disc
Phase name
Cycle age (days+hours since last new moon)
Time until nearest syzygies (new and full moons)
Upcoming (and recent) eclipses, supermoons, blue moons, and black moons
Right ascension and declination
Orbital distance, both in miles/km and as a percentage of its mean
Time and date of nearest apogee and perigee
Topocentric altitude and azimuth
Libration degrees
Lunar rise, set, zenith and nadir times within 24 hours
Solar altitude and azimuth
Dawn, dusk, sunrise, sunset, and solar zenith times
Additional data gets added to this page frequently; most major releases of the app include something new here.
Like the rest of the app, the Data page can easily be switched to show another day, or a different observer location anywhere on Earth. Want to know when the moon will rise on New Year's Day in Fiji? No problem.
Lunar Eclipses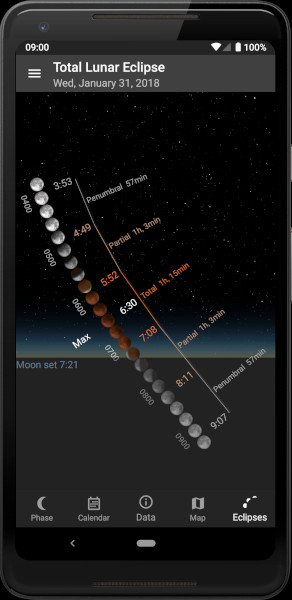 A big event for any moon enthusiast is a lunar eclipse, and of course, Lunescope has you covered here.
There's a dedicated Lunar Eclipses page listing all eclipses between 1950 and 2050.
Tap on any to open our exclusive eclipse visualization (shown here), simulating the entire eclipse as seen from your location, along with times and durations of all contacts.
Lunar eclipses are also shown in the Calendar.
A couple of weeks before an eclipse, it'll be mentioned on the main and Data screens as a feature of the next full moon
24 hours before, the app's usual notification will feature the eclipse.
While a lunar eclipse is in progress, it will be depicted in all moon imagery: main app, live wallpaper, widgets, Wear watch face, and an ongoing notification. (Perfect for an eclipse that's not visible where you are!)
At any time – before, during, or after an eclipse – you can manually view it with Lunescope's usual tools. This includes a special "slow-motion" shadow-dragging mode in the main app while an eclipse is in progress.
Home Screen Features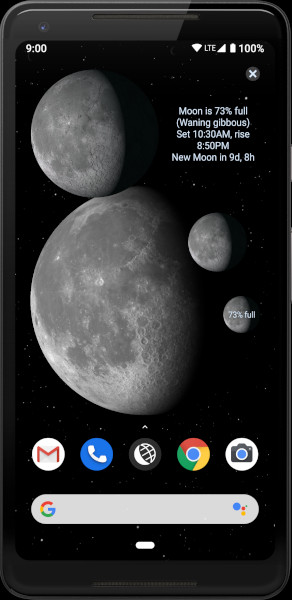 Lunescope's functionality isn't limited to that within the app itself. This screenshot shows three of its features which can be added directly to your device's home screen.
Notifications
Twenty-four hours before each major phase, Lunescope will notify you that it's about to happen with an icon depicting the phase in question. Expand the notification to see what's upcoming, including a preview image and the date & time of the event.
Widgets
For the fastest access to moon imagery and details, Lunescope's home screen widget is your best bet. It's fully resizable, from a tiny 1x1 – the same size as a single shortcut, shown in the upper-left of this screen – all the way up to filling an entire home screen pane, if you wish.
All but the smallest size also have the option to display moon data, as seen on the medium-size instance at the lower-left here. Hide or show the data overlay by tapping the

button.
The widget layout is also adaptive: when you've sized it so that its width and height are roughly the same, the text will be overlaid on the image, as shown here. If you make it significantly wider than it is tall (or vice versa), the text will be shown alongside (or underneath) the image. It's up to you.
Live Wallpapers
Don't want to devote valuable home screen real estate to another widget? No problem – Lunescope comes with a live wallpaper, keeping an image of the current moon always in the background, in all its 3D glory. It's the same image shown in the main screen of the app, with the same options.
On the Big Screen
If you have a larger Android device, such as a tablet or Chromebook, you'll get even more out of Lunescope. The moon imagery itself is bigger and better, of course, but the layout is also optimized to make the most of the big screen.
On the Small Screen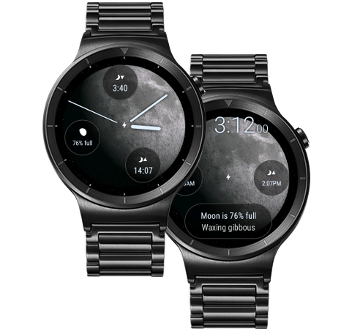 If you're rocking a Wear OS smartwatch, Lunescope has a couple of ways to bring its unique imagery and functionality to your wrist.
First, we've got a watch face, shown here. It features the same live moon graphic as our phone app, has a choice of analog or digital style, and supports up to 4 complications (to display information from other watch apps).
And speaking of complications, Lunescope is also a complication provider for other watch faces. Data available include the current phase – in text or icon format – as well as moon rise and set times. There's even "large image" provider that will put our trademark live-moon image in the background of any watch face that supports this feature.
Note: the Wear OS app is included in the purchase of Lunescope, but must be installed separately onto your watch.